Google Expeditions
On Wednesday 29th March, we had an amazing opportunity to experience Virtual Reality!
Year 1-6 all had opportunities to work with Google staff and go on a tour of different destinations, from Space, Volcanoes and even under the sea. It was an amazing experience and one that we all really enjoyed.
World Book Day 2017!
We had a marvellous day for World Book Day on Thursday 2nd March.
All children were invited to dress as their favourite book character! 
We had some brilliant costumes and everyone made a fantastic effort. Each year group then spent the afternoon researching different authors
Check out some of our super costumes! 
Reception's Bedtime Story Night 
On Thursday the 26th of January, Reception came back to school during the evening for a 'Bedtime Story Night'. Dressed in their pyjamas, they were accompanied by their parents and welcomed by our Reception team, who delivered an excellent reading session. 
Check out some of the Tweets from the evening. 
https://twitter.com/ColeshillHeath/status/824701207059042305
https://twitter.com/ColeshillHeath/status/824674844008710145
Coleshill Heath School Library Launch! 
On January 25th 2017, we will be opening our brand new library!
We have an action packed day ahead of us and we are thrilled to welcome Ros Wilson and author Alison Delaney to Coleshill Heath. 
All of the children will be issued with their very own library card and will be shown how to check the books in and out of the library.  
Check back here for photographs of our library launch in a few days time! 
Standing Ovation - CHS Choir 
On Friday the 13th of January, the children began their first choir session with Standing Ovation, a choir that enables children to boost self esteem and confidence through singing. With over 50 children signed up, this is sure to be a huge success. Watch this space for more information. 
James Nottingham and the Learning Pit
'Proving is Good. Improving is Better'. 
On Friday the 6th of January, CHS welcomed James Nottingham from Challenge Learning into school. James delivered a range of workshops on 'The Learning Pit' and the ways in which it can be successfully used within the classroom to challenge existing thinking, encourage 'new' thinking and support language, communication and collaboration. 
The workshops took place in class Newton in Year 2 and class Malala in Year 5. During the afternoon, teachers participated in a professional development session, led by change looking specifically at Growth Mindset and the work of Carol Dweck, building and developing resilient learners and modelling high expectations. More information can be found below in the short video. Moving forward, our teachers will be carrying out some classroom inquiry and developing the Learning Pit at CHS. 
Why not talk to your child's class teacher about this during the Spring Parents' Evening? 
Mayor Visit
​We had an amazing visit from Madame Mayor.  She was impressed by the performances of year 5 about all of the amazing events that go on at CHS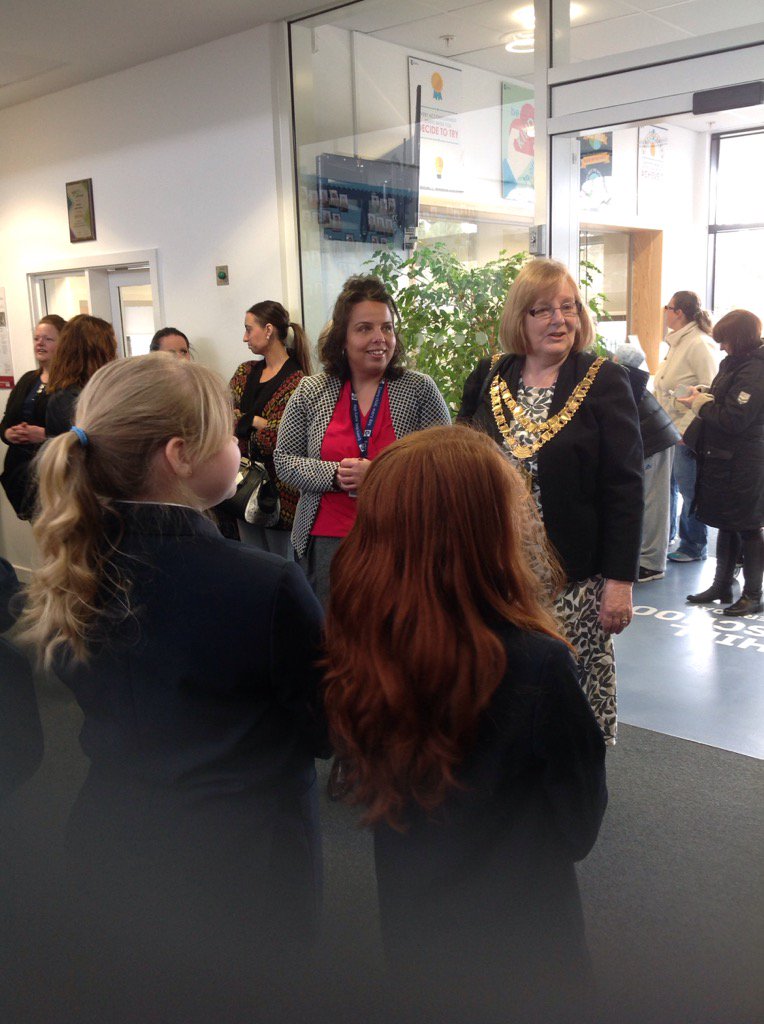 The Chicks
The chicks have now hatched in our main hub area. Why not pop in and see them.